Labor Day is a great holiday to get together with friends and family for a final party before summer ends.  And the party usually involves a barbecue because why not? We get to be outside and enjoy good food with minimal cleanup. When I used to live in Boston, I would take every chance to be outside whenever possible.  I don't quite feel the same way in San Francisco and sometimes I forget which season we are in. The other day I saw football on TV at a bar and realized wow summer is ending and I am just realizing that.  Ironically today was the hottest day of the year, hitting about 100 degrees in parts of San Francisco so for people in the Bay area, summer is just starting. Anyway I didn't want summer to slip away before sharing this delicious and refreshing pasta salad recipe. There is usually an abundance of fresh basil at a reasonable price during this time of the year too! This pasta salad is a great addition for barbecues so if you are still planning to go to one before summer ends, try this recipe and you will not be disappointed.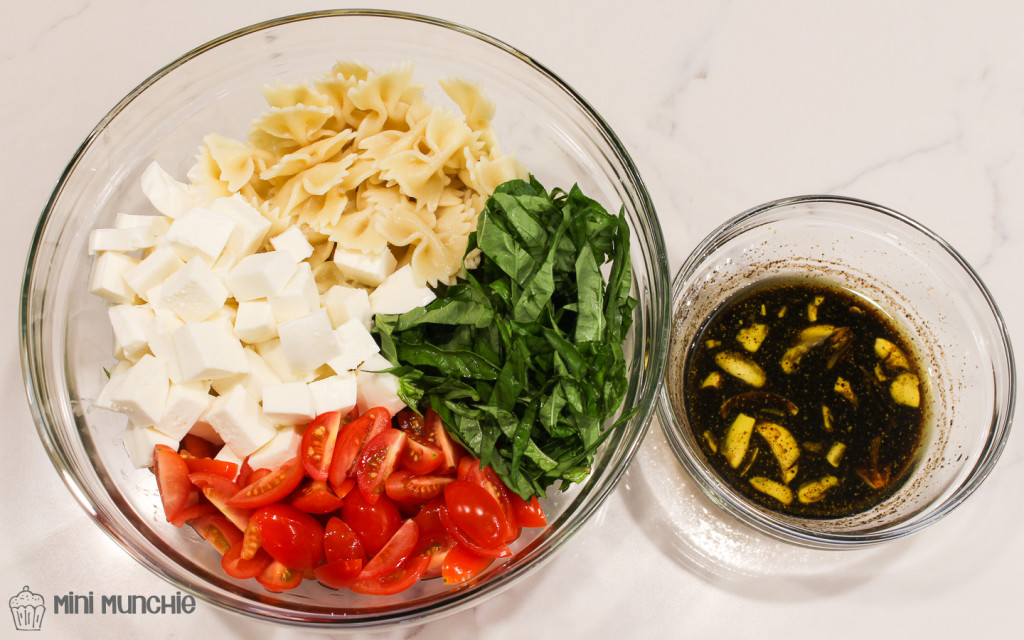 All the ingredients you will need are shown in this picture above.  It's fairly simple and you can make this ahead of time and just refrigerate it until ready to serve. Most supermarkets sell fresh small mozzarella balls (pearlini) so you don't even have to cut the fresh mozzarella into squares.  As you can see, the dressing has some crushed garlic in it to add some flavor, which should be removed before adding the dressing to the salad. If you have a garlic press, that would work really well here and you won't need to remove the garlic pieces. Often times, I find that balsamic vinaigrette straight out of the bottle taste too strong so adding some crushed garlic, olive oil, and seasoning helps lighten the flavor a little bit. Another great variation to this pasta salad is using pesto instead of balsamic vinaigrette dressing. I think both will taste great!
Serves about 6
2 c farfalle pasta
2 c grape tomatoes, quartered
1 c fresh basil, chopped into ribbons
8 oz fresh mozzarella, cut into squares (or pearlini)
4 cloves of garlic, crushed
1/4 c balsamic vinaigrette
2 Tbsp extra virgin olive oil
1/4 tsp sugar
1/4 tsp salt
1/4 tsp pepper
1. Cook the pasta until al dente according to the directions on the box.
2. Prep grape tomatoes, fresh basil, fresh mozzarella, and garlic.
3. In a small bowl, combine crushed garlic, balsamic vinaigrette, olive oil, sugar, salt, and pepper and set aside.
4. Let the pasta cool before combining it with tomatoes, basil, fresh mozzarella.  Add the dressing according to taste (you may not need all of it).
5. Refrigerate until ready to serve.