Summer is the best time to make pesto. Why buy a jar of pesto when plenty of basil can be found at supermarkets for cheap? Pesto goes well with pretty much everything. Spread it on a sandwich, serve it with pasta, drizzle it on bruschetta, add it to a salad dressing, or treat yourself to a spoonful by itself!
Pesto = basil + cheese + nuts + garlic + olive oil. These simple ingredients make up the best sauce. It's extremely tempting to eat pesto by the spoonful while you are making it so always make extra!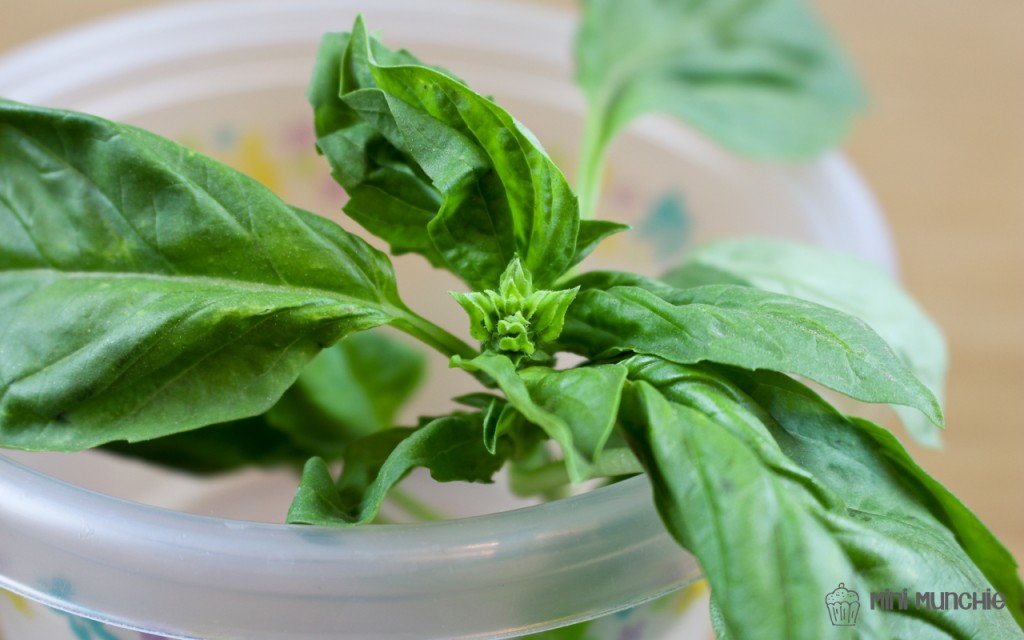 Have you tasted pesto that is slightly bitter? It turns out that the buds in the middle are bitter. If you are buying basil, pick the plant with the least buds. It's inevitable that there may be some buds in each bunch so try to pick them out as you are washing the basil. It will keep your pesto sweet and delicious. Wash the basil thoroughly and air dry it completely before adding them to the blender.  Once they are dry, cut off the stems so you are left with the basil leaves.
While you are waiting for your basil to dry completely, toast the pine nuts in the oven for about 5-7 minutes.
Another reason pesto can taste bitter is because of raw garlic. To solve this problem, blanch the garlic for a short period of time. Once you have peeled your garlic cloves, place them on a big spoon and lower it into a pot of boiling and blanch for about 30-40 seconds. Transfer the blanched garlic into a bowl of ice water to stop it from cooking. This will remove some of the bitter raw garlic taste and keep your pesto sweet.
Now that your basil is dry and stemless, it is ready to use. Pack the basil into a measuring cup firmly to measure how you much you need (it will pop back up when you release).
This is why a food processor is an essential tool in the kitchen. Without it you will be not be able to make delicious fresh pesto! All the prep work is done and it is time for the easiest step = chop, chop, chop! Start by putting your blanched garlic with a little bit of salt in the food processor. Pulse a few times until the garlic is mashed. Then add the toasted pine nuts (the pine nuts have changed color with white spots from toasting).
Blend the mashed garlic and pine nuts for a few seconds. I am only making one serving in this picture so you should see a lot more mashed up garlic and nuts in your blender.
Once the garlic and pine nuts are blended, add the basil into the blender.  Add a little bit of basil at a time depending on the size of your food processor. Scrape off the sides after a few pulses so that the ingredients are mixed evenly. Add olive oil in between adding basil. If you have a food processor that allows you to pour ingredients while the blender is running, that would be the perfect way to pour olive oil into the mixture.
Now that the garlic, pine nuts, basil, and olive oil have blended smoothly, add the shredded parmesan cheese. Pulse for only a few seconds and do not over mix. This is the time to try a spoonful of pesto and add more salt or cheese if needed. Just remember that the cheese is already salty so you normally don't need much salt since you have already added some salt with the garlic.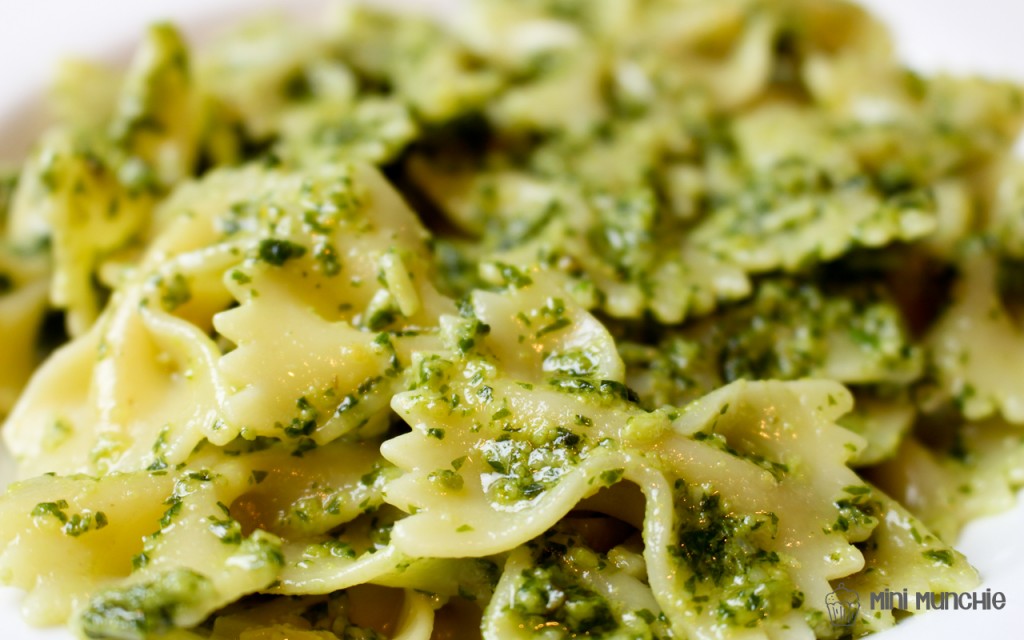 Now it's time to get creative with how to use your freshly made basil pesto! I was craving some noodles so I made some farfalle. Farfalle is the best type of pasta to serve with pesto because the sauce gets stuck in the wrinkles of the bow tie. Other pastas with large surface areas would work well too!
Storing Pesto:
1. Keep your pesto in a jar and add a layer of olive oil on top. Seal the jar and refrigerate for up to a week or freeze for up to a month. You can also freeze for up to a month then transfer the jar to the refrigerator and keep it refrigerated for a week.
2. Use an ice cube tray to store pesto. Fill the compartments of an ice cube tray with pesto. Drizzle a layer of olive oil on top of each compartment to prevent the pesto from darkening. When you need some pesto, pop a few pesto cubes and heat them up on the stove. Follow this link for detailed directions.
Makes 1 cup of pesto
4 c fresh basil leaves (about 4 basil bunches or 8 oz basil leaves)
1/2 c pine nuts
5 cloves of garlic
1/4 tsp salt
3/4 c extra virgin olive oil
1/2 c shredded parmesan cheese
farfalle pasta (optional)
1. Preheat the oven to 350F.
2. Wash the basil leaves and remove any buds (see pictures above). Dry the basil leaves completely and remove the stems.
3. Lay the pine nuts on a baking sheet and toast in the oven at 350F for 5 minutes.
4. Bring a small pot of water to boil. Blanch the peeled garlic for about 30-40 seconds. Transfer the blanched garlic to a bowl of ice cold water.
5. Once the basil is stemless and dry, measure 4 cups of basil for the pesto. Lightly pack the basil in the measuring cup to estimate the amount needed and set aside.
6. Place the blanched garlic and salt in the food processor and pulse a few times until garlic is mashed. Then add the pine nuts and pulse a few more times until combined.
7. Divide the basil in portions and add to the food processor a little at time (adjust the amount based on the size of your food processor). After a few pulses, scrape the sides of the food processor before blending in more basil.
8. Once all the basil is incorporated. Add olive oil and pulse for a few seconds. Then add parmesan cheese and pulse a few more times. Do not over mix.
9. Taste the pesto and adjust the amount of salt and cheese if necessary. Serve immediately or refer to the above for storing options.