Pho was probably my favorite meal during all four years of college.  Okay maybe besides sushi but pho was always more affordable 🙂  I remember eating it almost every day the week before I was headed to London for my semester abroad because I heard it would be difficult to find a good bowl of noodle soup there.  It was also my first meal back when I returned from London. I think it's about time that I make my own.  Plus, rainy days in SF make me want to spend more time indoors which means more time to render my own broth!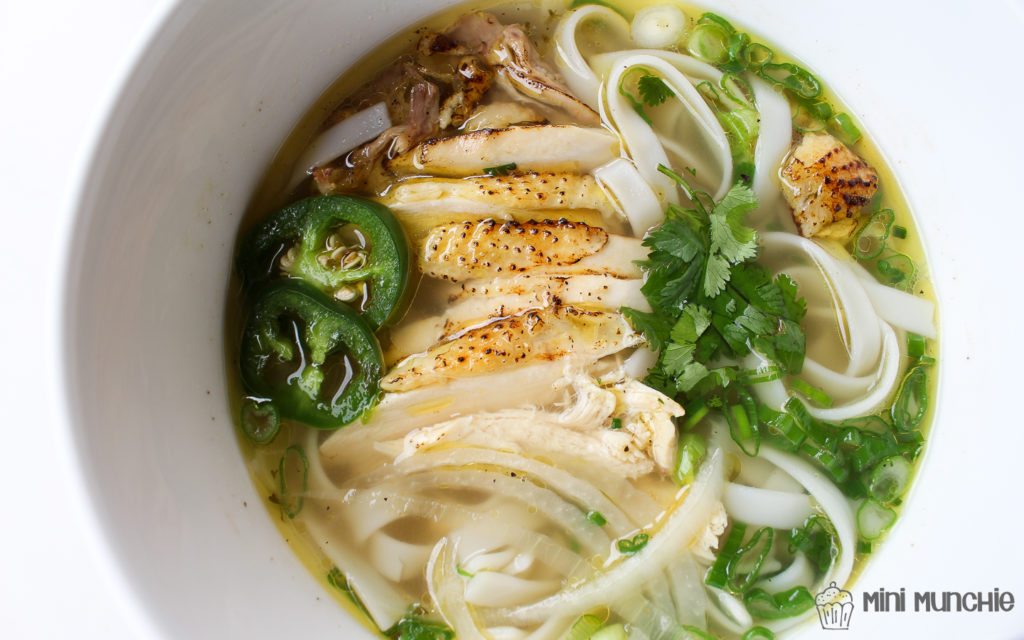 Pho (pronounced "fuh") is Vietnamese noodle soup and it usually comes with chicken or beef.   Pho Ga (chicken pho) is usually a lighter broth using fewer spices and served with wide rice noodles.  You can tell Pho Bo (beef pho) by it's darker broth and more prominent taste of various spices.  Before moving out to California, I have never ordered pho ga but I had the best bowl of pho ga within weeks of moving to SF and I haven't gone back to pho bo.  I can't believe I am saying this but I prefer chicken over beef pho any day now!  Pho ga requires less cooking time and fewer ingredients than pho bo so it's a great pho starter recipe.
One of the key ingredients for your pho ga is yellow-haired chicken (also known as brown chicken).  I made pho ga twice, once with organic chicken from WholeFoods and another time with yellow-haired chicken.  Something about yellow-haired chicken adds extra flavor and depth to the broth that a typical chicken from your local grocery store just won't cut it.  The broth from the organic WholeFoods chicken tasted a lot lighter overall.  You'll most likely find yellow-haired chicken at a butcher in Chinatown or at an asian supermarket.  I bought my fresh yellow-haired chicken from San Francisco Poultry in SF chinatown and my broth turned out perfect; clean and not too greasy.  If you are a little more adventurous, keep the giblets (see detailed instructions on how to prepare below) and add those to your soup to make it pho ga long (Chicken pho with giblets).  The picture shown above is pho ga long, it has a full chicken leg and some chicken gizzard which adds additional texture to the soup. Dark meat and giblets are usually available at an additional cost when you order them in a restaurant.  I don't mind paying a little more for dark meat every time because it's much juicier and more flavorful!
An important step for the broth that you cannot skip is chargrilling the onion and ginger.  This process helps the two ingredients sweeten and add depth to your broth when you cook it over time.  There are a couple ways to do this.  You can use an open flame on a grill or a gas stove but if you don't have access to either of those, broiling it in the oven or searing on a cast iron pan also works.  It's totally okay that the onion and ginger skin burn during the chargrilling process because you will be peeling those off anyway.  Follow my detailed instructions below.
There are various ways to make pho ga broth but I prefer adding fewer spices in my broth so they don't overpower the chicken flavor in the broth.  I use only 2 star anise, 3 cloves, 3 tsp rock sugar (14g), 3 Tbsp of fish sauce, and some cilantro (bound stems about 1 inch in diameter).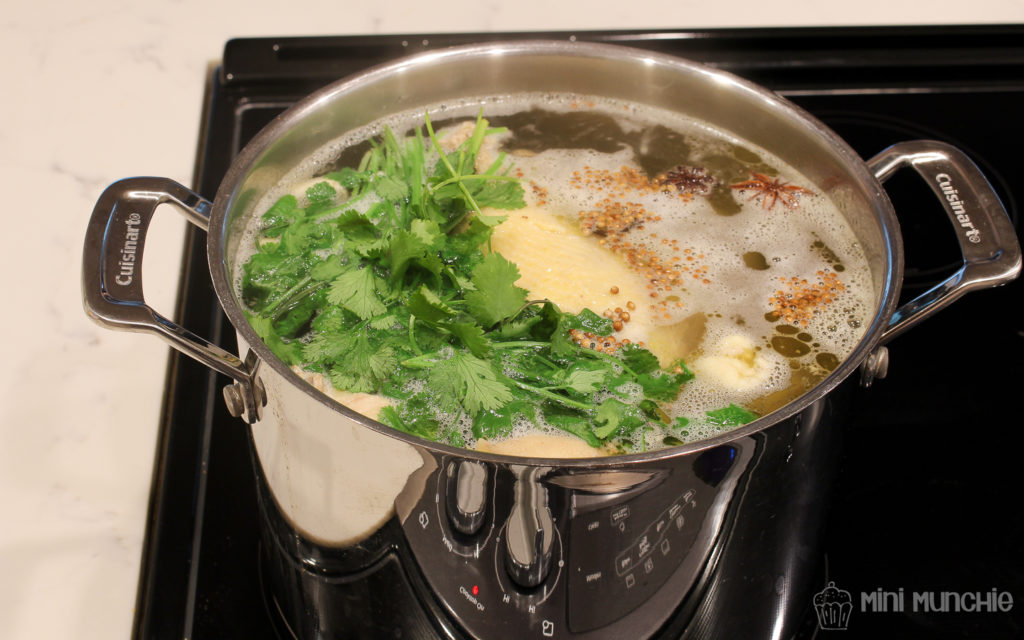 What I love about pho ga is how hearty and healthy this soup is and it's gluten free!  It's also not necessary to add any salt when rendering the broth so you can control the saltiness of each and every bowl when you assemble the noodle soup.  It's also super easy to reheat and assemble for quick weekday meals. If you have leftovers (which I never do, ha), you can freeze the chicken broth in wide mouth jars for 1 – 2 months and use it for cooking.  Pho ga has been my favorite go-to for comfort food during this rainy winter in San Francisco and now I don't even have to leave the house for a delicious bowl of noodle soup!
Broth:
1 whole chicken (yellow-haired chicken preferred, about 3lb)
3lb chicken bones (or use another whole chicken as a substitute if you prefer more meat)
1 lb yellow onion(s)
4 in ginger
3 Tbsp fish sauce
2 star anise
3 cloves
1/2 Tbsp coriander seeds
3 tsp rock sugar (1/2 oz or 14 grams)
1 bunch fresh cilantro (bound stems about 1 inch in diameter)
1 Bowl of Noodle Soup:
100g rice stick noodle (dried or fresh, M/L size), soaked in hot water for 20 minutes
cooked chicken, sliced and torched
giblets (optional)
jalapeno, sliced
lime wedges
cilantro leaves
green onions, thinly sliced
thai basil
chili sauce, cilantro
1/4 – 1/2 tsp salt
1/8 tsp black pepper
1/8 tsp of MSG (optional)
Broth:
Clean the chicken, remove giblets (set aside) and chicken bones in cold water.  In a large pot or non-reactive container, soak chicken and bones in cold water and refrigerate for 1 hour.  Then dump the water from the pot and rinse off any residue on the chicken and bones
While the chicken and parts are soaking, char onion(s) and ginger until slightly burned and softened. Use an open flame on grill, gas stove, oven, or cast iron pan.  The ginger may take slightly longer to soften, if you have a torch handy, sear the top for a few seconds to get the char


Open flame on grill or gas stove:

Place onions and ginger on cooking grate and let skin burn. After about 15-20 minutes, they will soften and become sweet and fragrant. Use tongs to occasionally rotate them and to grab and discard any flyaway onion skin


Oven:

Place ginger and onion on a baking sheet.  Set oven to broil for 15-20 minutes leaving enough room between the top the onion and the heating element. Turn the onion and ginger every 5 minutes, to get an even char. The skin should get dark and the onion and ginger should turn soft.  Set onion and ginger aside to cool until ready to handle
Once onion and ginger are cool enough to handle, remove the charred skin
After soaking the chicken for 1 hour, remove wings from the chicken and chop the bones into 2-3 inch pieces so they will break down faster.  Return chicken and chicken parts into a clean pot and fill with fresh water just covering the chicken and chicken parts
Bring the chicken and chicken parts to boil for 2-3 minutes to clean off any residue and scum (scum should surface). Dump the water, rinse chicken and chicken parts with cold water, and return chicken and bones to a clean pot by tucking the whole chicken in between the bones and wings.  This process is called parboiling to achieve clean broth.
Add four quarts of fresh water to the pot and bring the chicken and chicken parts to boil, skimming any remaining scum that arises to the surface
Once the pot is boiling, add onion, ginger, 3 Tbsp fish sauce, 2 star anise, 3 cloves, 1/2 Tbsp coriander seeds, 3 tsp rock sugar, and cilantro.  Cook whole chicken uncovered for 10-15 minutes in a steady simmer (my stove was brought down to medium heat after boiling and I generally cook it for about 10 minutes only since the chicken has already parboiled previously)
Remove whole chicken(s) from the pot and rinse immediately with cold water.  Set aside for 10 minutes or until it has cooled off and ready to handle.  Continue boiling the pot (with remaining chicken parts) in a steady simmer while chicken is cooling off
When chicken has cooled off enough to be handled, separate breast and whole legs from the carcass.  Set cooked chicken aside to cool completely, then refrigerate in an airtight container
Return the leftover bones and carcass to the pot and continue boiling in a steady simmer (my stove was on medium heat) for another 2-3 hours.  When ready, you should have approximately 9.5 cups of broth left.  Strain the broth and discard any leftover chicken parts. Then let the broth cool off and refrigerate overnight.  The broth usually taste better the next day!
Broth can be stored in the refrigerator for up to a week and the freezer for 1-2 months in an airtight container (e.g., wide mouth jars)
Cooking Giblets (optional):
Rinse off any blood or residue on the giblets
Bring a pot of water to boil and cook the giblets for 20 minutes, skimming any scum that arises to the top
Strain the water and let it cool slightly before refrigerating in an airtight container
Cooking Noodles and Assembling the Soup:
Fill a large pot with boiling hot water and soak dried noodles for 20 minutes (dried pho needs to be softened before cooking). If you are able to buy fresh noodles, even better! you can skip this step and just blanch the fresh noodles for 2-3 minutes
Prepare toppings (jalapeno, lime, cilantro, green onions, thai basil, etc) and set aside. Preheat your serving bowls by filling them with hot water or using the oven
Cut a few slices of the cooked chicken (previously stored in the refrigerator from making the broth) and let it sit in room temperature while the noodles are soaking in hot water.  If you have a torch, I recommend torching the chicken skin for about 15-20 seconds until crispy.  If you plan on using giblets in your soup, take those out of the refrigerator to bring to room temperature now
After noodles have finished soaking, replace with fresh water and bring noodles to boil and cook for 3-5 minutes or until softened (cooking times vary based on the size of pho)
Right before the noodles are done cooking, prep serving bowls with salt, black pepper, msg (optional) and fill the bowl with 1+1/3 cups of broth.  Then strain the noodles, add it to the bowl with your favorite toppings