It's already been eight months since I moved across the country from Boston to San Francisco.  Time flies when you're having fun and exploring a new city! It definitely took longer than I thought to get back to blogging but that's mainly because I did not have a working kitchen for a long time. I am so excited to cook and bake again! The first thing I baked in my new apartment was French macarons, is anyone surprised? I missed baking macarons but more importantly I wanted to know that I still remembered how…after so long. The second baking session was for my best friend's wedding. I made macaron pops as her wedding favors last month and they were super cute. I will get to that post soon but for now, back to the basics, here is a delicious cookie recipe.  Pistachios and Nutella are two of my favorite ingredients for baking so combining them makes this amazing, addicting cookie.
Trader Joe's sells pistachio halves with shells already removed, which are perfect for baking (and eating too!).  It's so tempting to eat a handful of these pistachios while baking! If you are using whole pistachios, chop them in half and measure one additional tablespoon of pistachios separately.
Chop the additional tablespoon of pistachios more finely.  We will be sprinkling this on top of the cookie dough.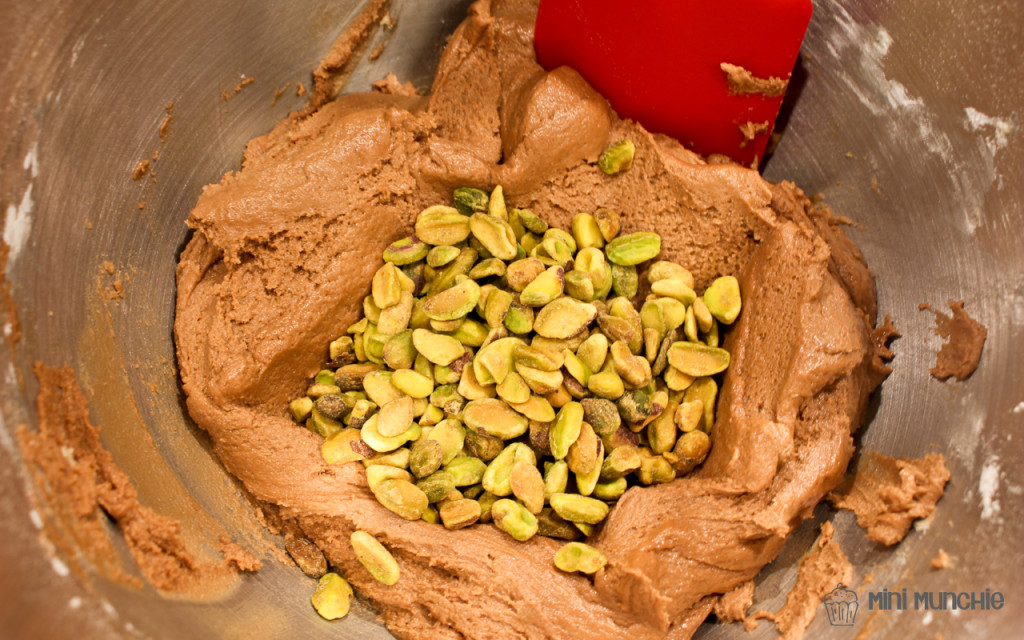 The cookie dough will feel softer than standard cookie dough and slightly airy.  Since we added Nutella, which is a wet ingredient, the consistency of the cookie dough is slightly more moist.  To prevent over-mixing the dough, gently fold in the pistachio halves.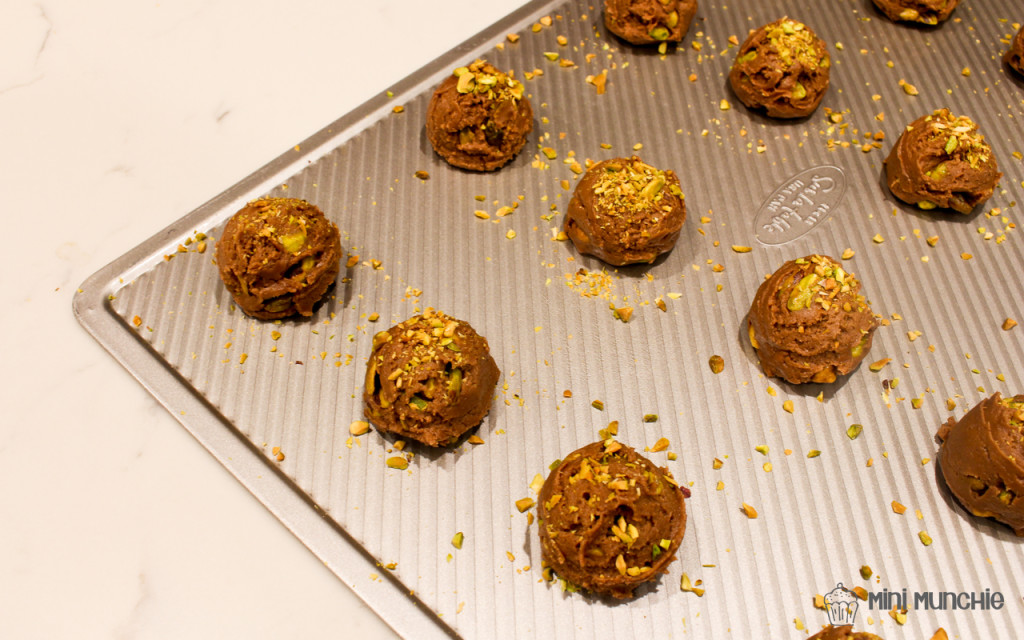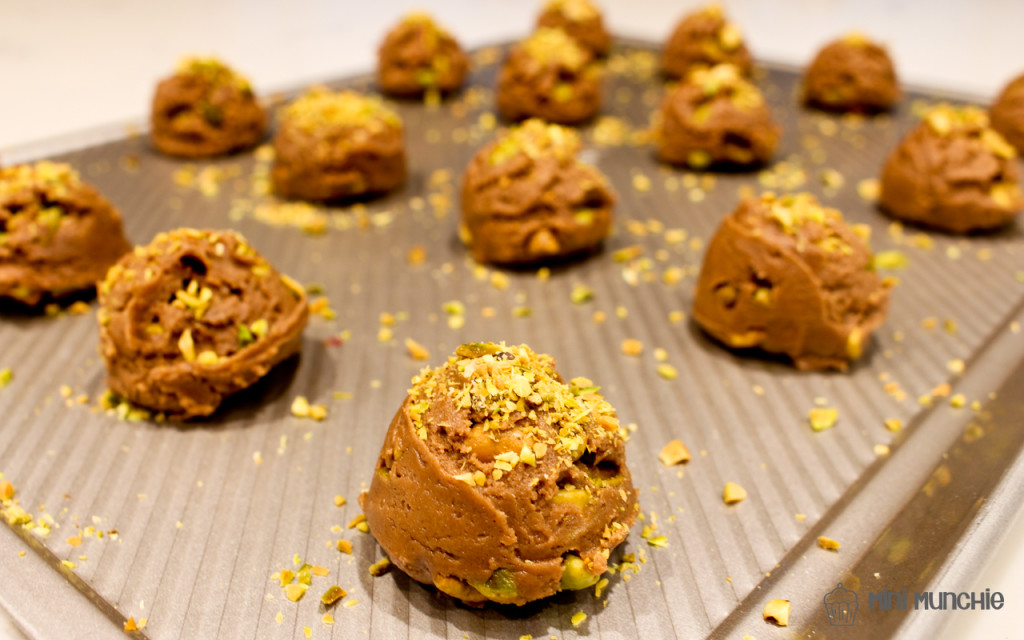 Scoop generous tablespoons of cookie dough onto a baking sheet and sprinkle crushed pistachios on top of each cookie dough.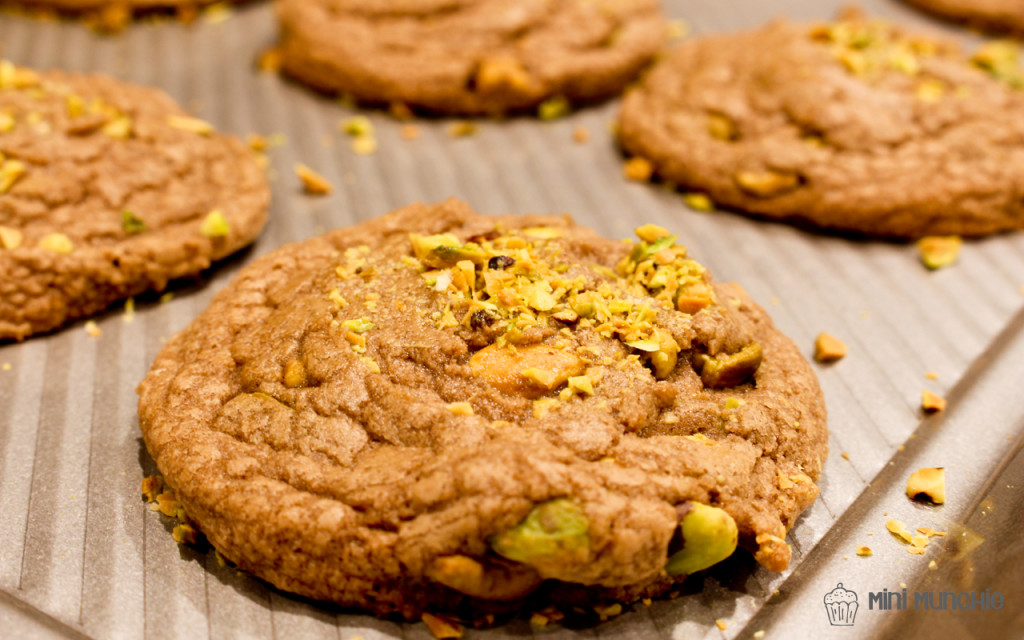 Let the cookies set on the baking sheet for 5 minutes after baking. Then transfer them to a wire rack for cooling. The cookies will be fairly soft when they are still warm so allow the cookies to cool completely, about 20-30 minutes, before storing them. If you have enough people to eat them without storing any that's fine too! Once the cookies have cooled on the wire rack they will become more firm, crispy on the edges and soft in the center. This is my new favorite cookie!
Makes 20 cookies
1/2 c unsalted butter, room temperature
1/2 c light brown sugar
1/4 c granulated sugar
1 egg
1/2 c Nutella
1/2 tsp baking soda
1/4 tsp salt
1/2 tsp vanilla extract
1/2 tsp almond extract
1 + 1/2 c all purpose flour
3/4 c pistachios, halved
1 tbsp pistachios, chopped
1. Preheat the oven to 350F.
2. In an electric mixer, beat butter until soft and creamy.
3. Add sugars and mix until combined.
4. Add egg and mix until combined.
5. Add Nutella, baking soda, salt, vanilla extract, and almond extract and mix until combined.
6. Add flour and mix until combined.
7. Gently fold in pistachio halves by hand.
8. Scoop generous tablespoons of cookie dough onto a baking sheet. Sprinkle each cookie dough with chopped pistachios.
9. Bake at 350F for 10 minutes, remove from the oven and let the cookies set on the baking sheet for 5 minutes, then transfer to a wire rack to cook completely.