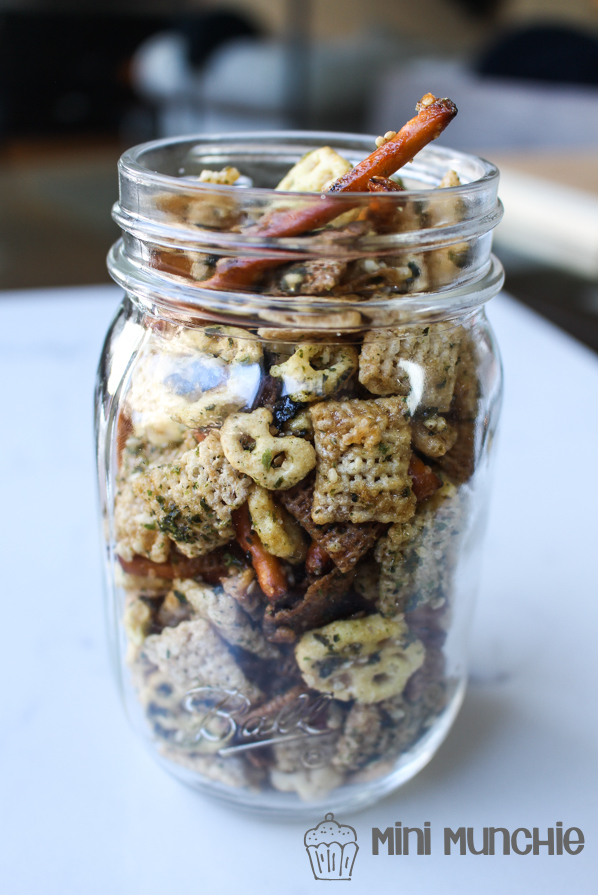 Normally baking desserts is my go to for holiday parties and potlucks but this Nori Chex Mix is my new favorite party snack! It's super easy to make and you can customize it with your favorite cereals.  Bring it as a pre-dinner snack or drinking snack, also perfect for your super bowl party tomorrow!  It's super easy to make and very low maintenance for transporting to a party. I must warn you that this snack is quite addicting 🙂
I used rice chex, wheat chex, and honeycomb cereals plus some pretzel sticks for my mix.  I found that these three cereals plus pretzels work really well together, it's the perfect balance of crunchiness, saltiness, and sweetness. You can mix and match with your favorite cereals! Be creative 🙂
For the nori furikake seasoning, I prefer the flavors from this brand and I typically buy it at the Japanese supermarket in town.  You can find several other brands at asian supermarkets and sometimes in the asian/international aisle at your local supermarket.  Alternatively you can also order it on Amazon/Jet.com just make sure to choose the "Nori Fumi" flavor as other flavors may contain seafood and not work as well for this snack.
4 tablespoons unsalted butter
1/4c granulated sugar
1/4c brown sugar
1/2 box rice chex (12 oz box)
1/2 box wheat chex (14 oz box)
1/3 box honeycomb (12.5 oz box)
1/4c vegetable/canola oil
1/4c light corn syrup (I used Karo)
1 Tbsp soy sauce
2-3 handfuls of pretzel sticks
1 bottle of nori fumi furikake (1.7-1.9 oz)
Preheat oven to 250F
In a pot over medium heat, melt butter (do not bring to boil) and then combine with granulated sugar and brown sugar
Pour cereal mix in a large mixing bowl and set aside (no pretzels yet)
In the pot with butter and sugar, add vegetable oil, light corn syrup, soy sauce, and whisk to combine then remove from heat (measure the vegetable/canola oil first and then the light corn syrup so it doesn't get stuck in your measuring cup)
Pour a little bit of sauce at a time while adding furikake over the cereal mix, stirring gently without crushing the cereal. Right before you mix in the last bit of sauce and furikake, add 2-3 handfuls of pretzel sticks and mix.
Lay your Chex mix on a baking sheet and bake for 1 hr at 250F, stirring every 15 minutes. Let it cool completely before eating so don't burn your tongue!
Store in airtight containers, jars, or ziplock bags.