When I first started blogging I was ambitious about making all my food miniature so I posted my individual mini chicken pot pie recipe.  Let's face it, we are tired after a full day at work and get lazy with our cooking. I was looking for something quicker that is still delicious and warms up my tummy on a fall day. It's fall and I have pulled out my leggings and booties! Time for apple picking, cider donuts, and warm pies. I'm ready!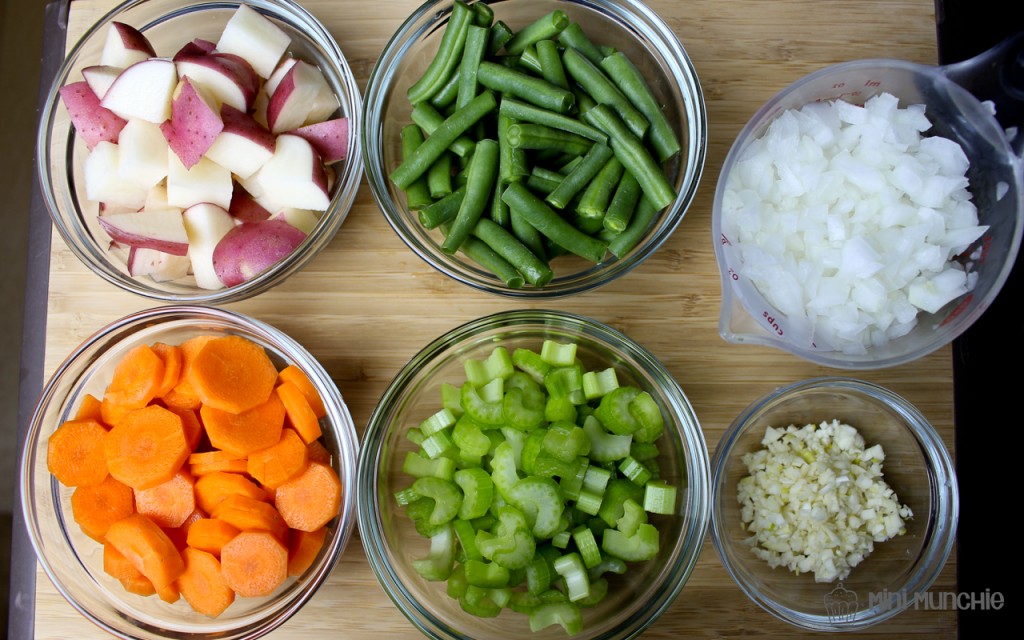 To keep it simple, we are using the the same amount of ingredients as my mini chicken pot pie recipe. It's a lot easier to chop everything up so you are ready to sauté altogether later.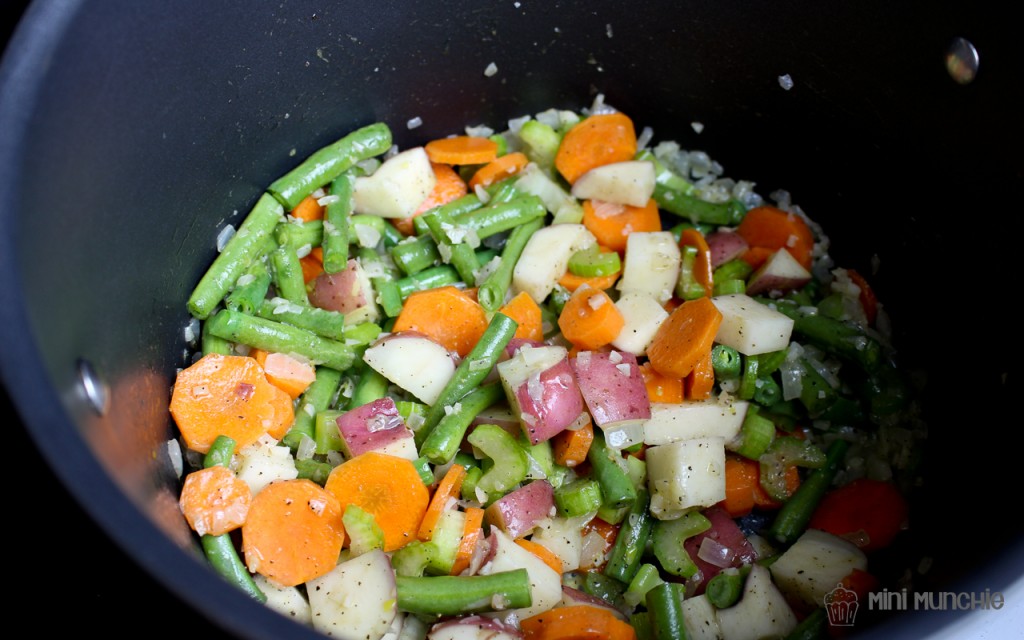 Melt some butter in a large pot and sauté the onions until they are golden, add garlic and stir for a few minutes. Then add the rest of the vegetables and sauté for about 8-10 minutes so everything slightly softens.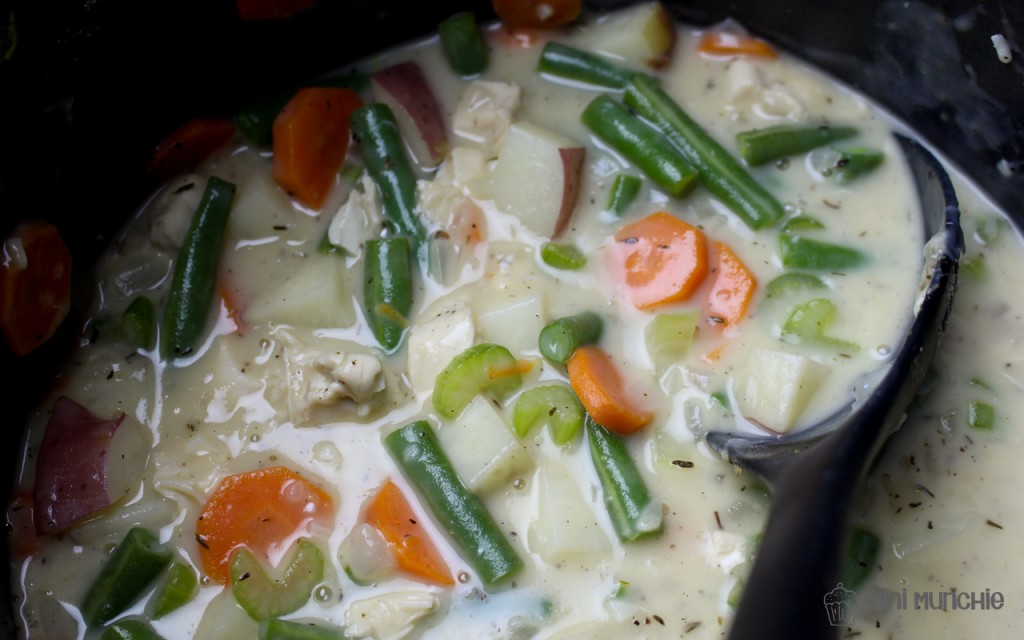 Add the thyme and flour and stir until combined. Then pour in the chicken stock and milk slowly.
Roll out the pie crust slightly so it is big enough to drape over the baking dish but not super thin.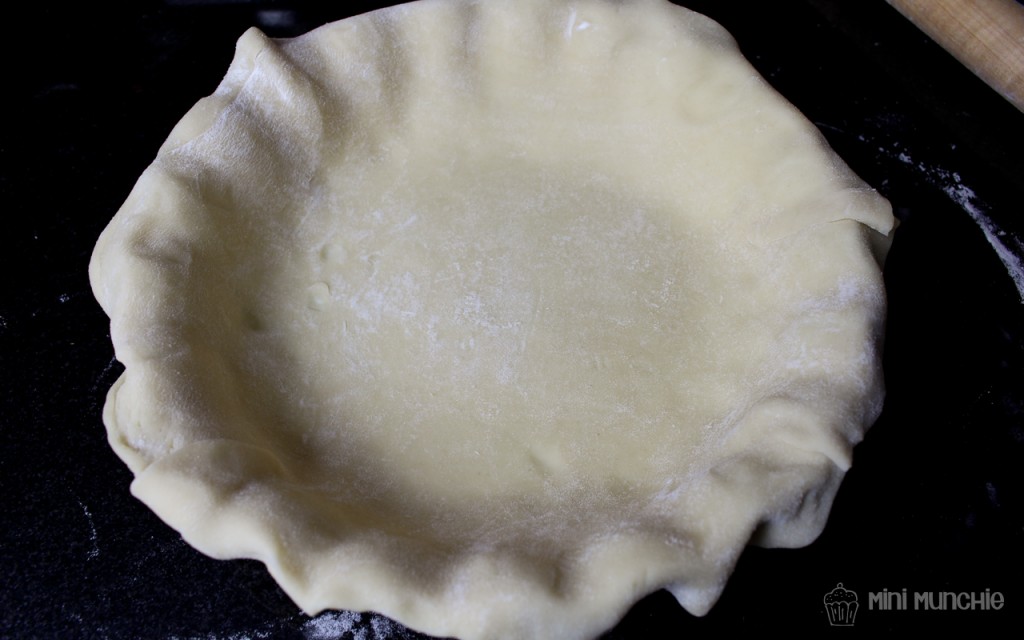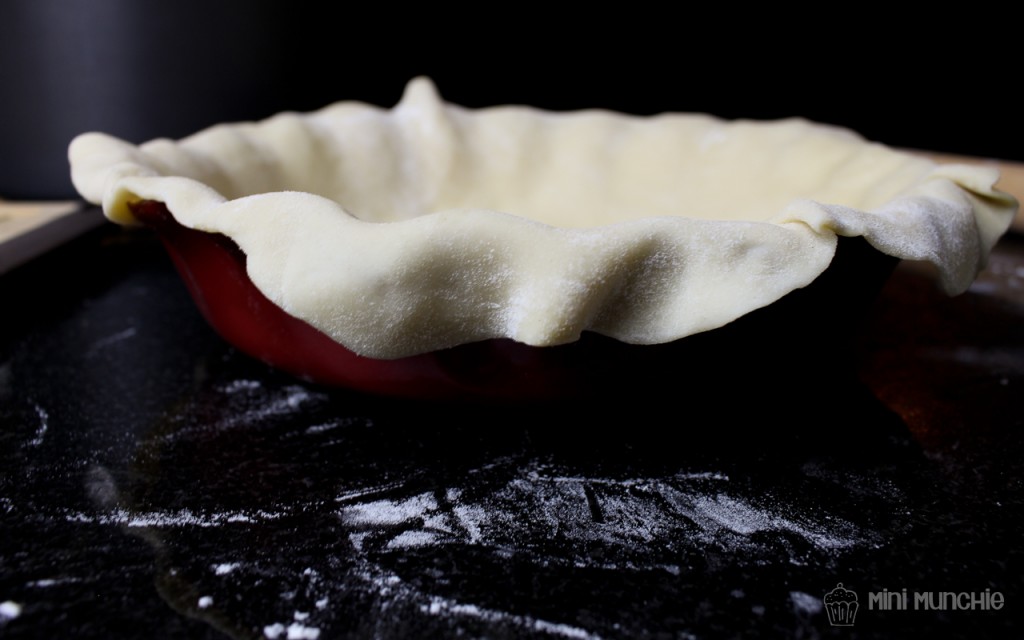 Lay the pie crust on the baking dish, allowing the edges to drape a little bit so that you can fold the top layer later.
Pour the warm willing over the baking dish and spread the ingredients around evenly.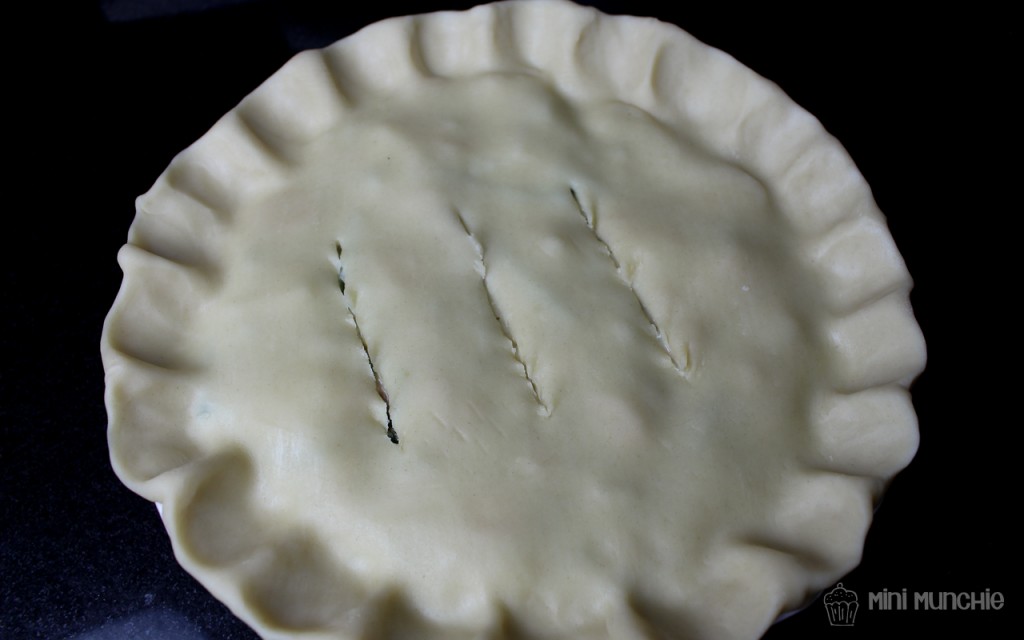 Draw a few lines across the pie crust with a knife.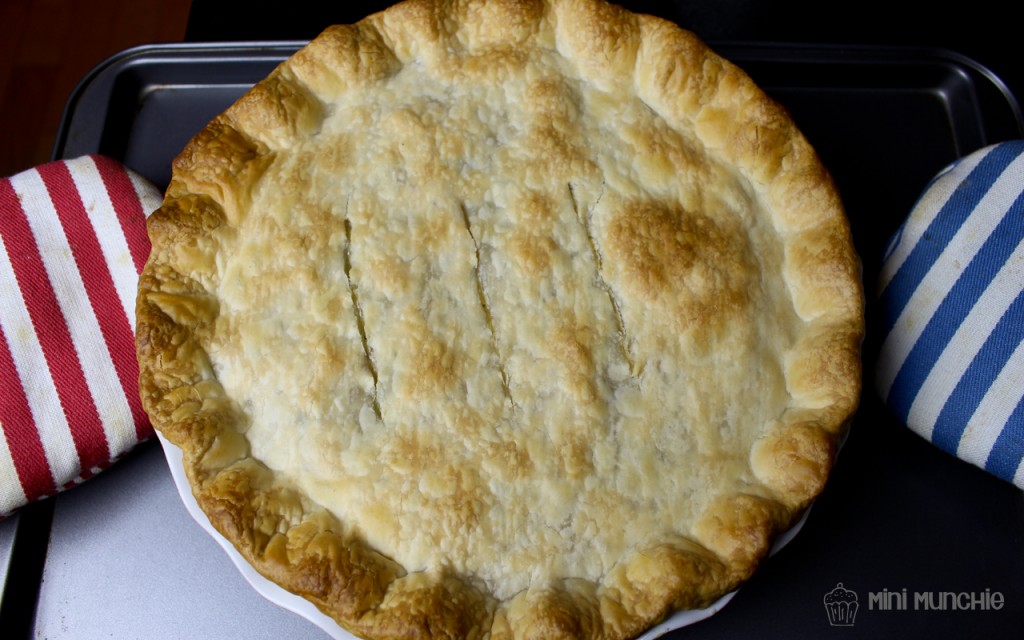 Bake until the crust is golden brown so the edges are crispy and delicious. I normally bake for 30-40 minutes, watching it occasionally to make sure the crust does not burn.
I am usually starving by the time I am done cooking and baking so I always burn my tongue on my first bite. I tell myself that I won't do it again next time and it always happens. If you enjoy a little bit of heat, I would highly recommend drizzling some hot sauce on top. You can also add any vegetable you like to your pot pie to make it your own!
Makes 1 individual pie
2 Tbsp garlic, minced
1 medium yellow onion, diced (1 cup)
4 stalks of celery, diced
3 carrots, sliced
1 red potato, sliced
1 c green beans, sliced
1 lb of chicken breast tenderloins, cubed (1 inch)
1+1/2 chicken bouillon cubes
2 c water
2 Tbsp butter
1/2 tsp of salt
1/2 tsp of pepper
1/3 c flour
1 tsp thyme (dried)
1/2 c milk
1 box pie crust
1. Prep the vegetables (first 6 ingredients) and set aside.
2. In a medium pot, fill halfway with water and add chicken breast tenderloins. Cook for 10-12 minutes total (for 1  pound of chicken), including the time it takes to boil. Do not overcook chicken as it will continue to cook in the oven. After cooking, cut the chicken into 1 inch cubes.
3. To make chicken stock, fill a small pot with 2 cups of water and 1 + 1/2 cubes of chicken bouillon and bring to boil. Once the cubes are dissolved, remove from heat and set aside.
4. In a large pot over medium heat, melt butter then add onions and saute for about 4 minutes. Add garlic and cook for another 2 minutes.
5. Pour celery, carrots, potato and green beans into the onion and garlic mixture. Season with 1/2 teaspoon of salt and 1/2 teaspoon of pepper. Stir continuously for about 5 minutes or until vegetables are slightly golden.
6. Add flour and thyme then stir constantly for about 2 minutes to prevent flour from lumping together.
7. Pour the chicken stock into the mixture then add the cubed chicken. Turn the heat to high and stir continuously. Once the mixture starts to bubble, immediately turn the heat down to a low setting.
8. Pour half of the milk into the mixture and stir until combined, then pour the other half and mix thoroughly. Remove from heat and set aside.
9. Roll out one sheet of the pie crust so that it is big enough to drape slightly over the sides of the baking pan (see picture above).
10. Pour the filling onto the baking dish over the pie crust.
11. Roll out the other sheet of the pie crust and lay it over the top of the baking dish. Fold the two pie crusts together and press to ensure all the sides are tightly sealed.
12. Draw a few slits/vents on the pie crust then bake at 425F for 30-40 minutes or until the crust is golden brown.