When I first started blogging I intended to make a bunch of miniature desserts, appetizers, and food. I sort of drifted off that theme and got into baking French macarons all the time. I guess my cookie recipes typically yield smaller cookies so they are still somewhat mini themed! I love cheesecake but it's such a guilty pleasure so I made mini cheesecakes with greek yogurt topped with fresh berries that are July 4th colors.  We got struck with tropical storm Arthur in Boston so the July 4th celebrations were moved to the 3rd this year. I spent the rainy day watching the World Cup quarter finals with my sister (who is visiting) along with some baking and home cooking. I hope you enjoyed your holiday too!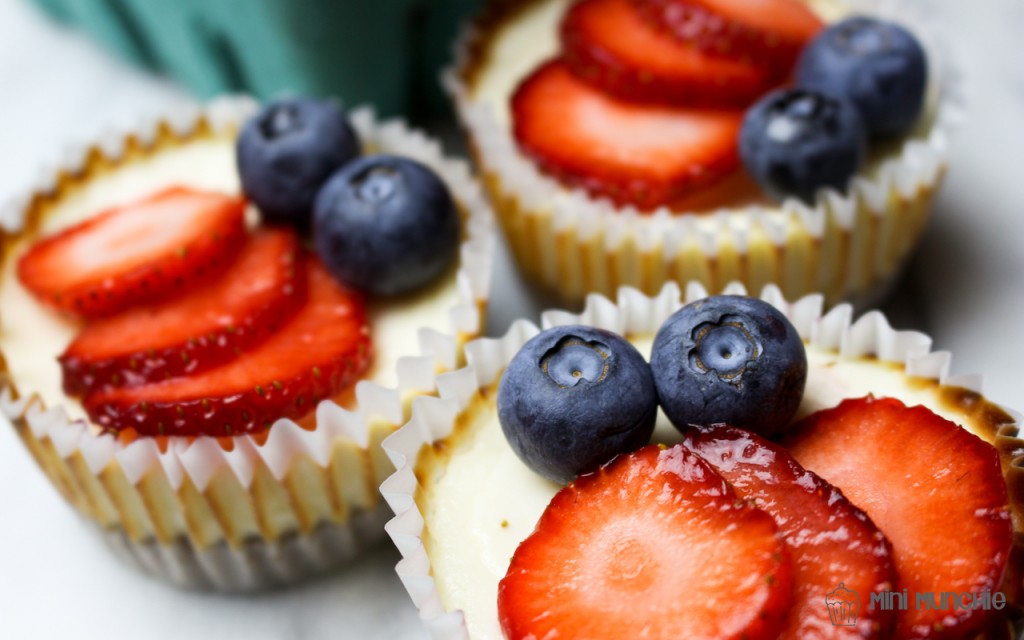 Another good thing about mini cheesecakes is that they are quick to bake and set. Plus you only need to chill it in the refrigerator for a few hours. It's a quick and easy dessert to bring to a party for Memorial Day or July 4th!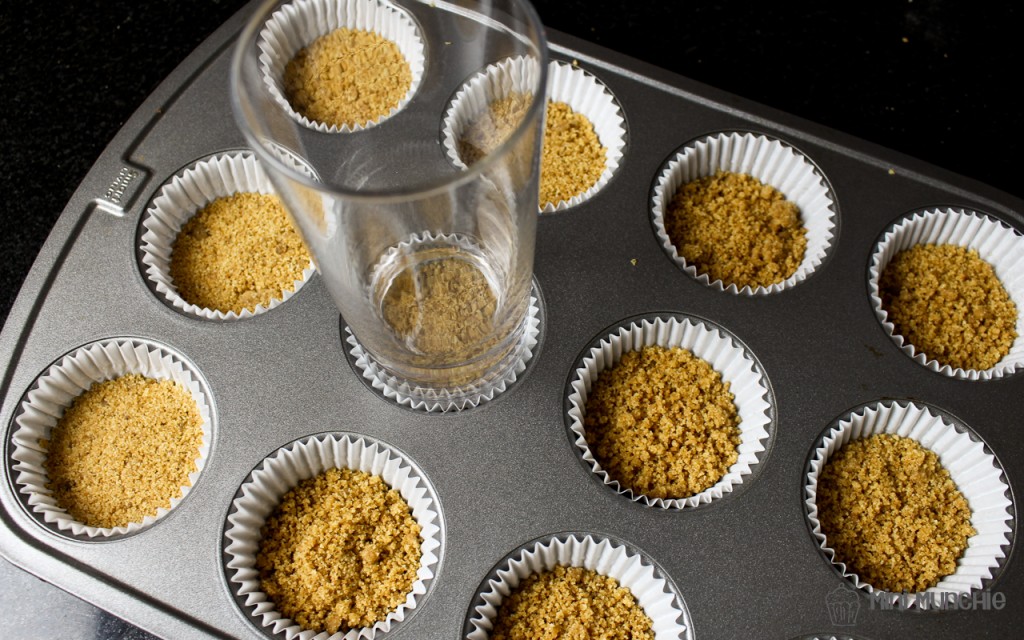 I used about two tablespoons of graham cracker mixture for each mini cheesecake. If you don't have a coffee tamper, use the bottom of a glass to press the graham cracker crust into the cupcake liner/muffin pan.
Fill about 2 tablespoons of batter into each cupcake liner. The batter should fill up to 3/4 of the way. Cheesecake does not really rise so you don't have to leave too much room.
I love summer time when there are plenty of berries at the market. Ever since Wegmans supermarket opened near my apartment, I have not gone back to any of the other local supermarkets. They offer a wide variety of prepared foods, cheese, charcuterie, and fresh organic produce. There is also an affordable liquor/wine store right above the supermarket as. It's such a perfect one stop shop market!
Makes 12 mini yogurt cheesecakes
Crust:
1 + 1/4c graham cracker crumbs (140g)
3 Tbsp brown sugar
5 Tbsp unsalted butter, melted
Cake:
8 oz Philadelphia Cream Cheese, room temperature
1/4 c granulated sugar
1 tsp vanilla extract
6 oz greek yogurt
2 large egg whites
1 Tbsp all purpose flour
Garnish:
Strawberries
Blueberries
To make the crust:
1. Stir together graham cracker crumbs, brown sugar, and melted butter.
2. Line 12 cupcake liners on the muffin pan. Press 2 tablespoons of graham cracker mixture into the bottom of each cupcake liner.
To make the cheesecake:
1. Preheat the oven to 350F.
2. Using an electric mixer, beat cream cheese, sugar, and vanilla extract until smooth.
3. Add greek yogurt, egg whites, and flour into the mixture. Beat until combined but do not over beat.
4. Pour 2 tablespoons of batter into each cupcake liner, filling it about 3/4 of the way.
5. Bake at 350F for 20 minutes.
6. Cool the cheesecakes at room temperature then chill in the refrigerator for 2 hours.
Adapted from: Skinny Taste