There used to be a dessert themed restaurant called Finale in my neighborhood. Although they served a full dinner menu, we always stopped by for their molten lava cake. Warm melty chocolate cake paired with spoonfuls of vanilla ice cream…just perfect! Eventually this restaurant moved to a different location and was no longer down the street from my apartment. So I decided to try baking my own molten lava cake and we never went back to the restaurant after that. It turned out to be an extremely easy recipe with seven basic ingredients that you probably have in your pantry right now!
Fill the batter 3/4 of the way as they will rise quite a bit.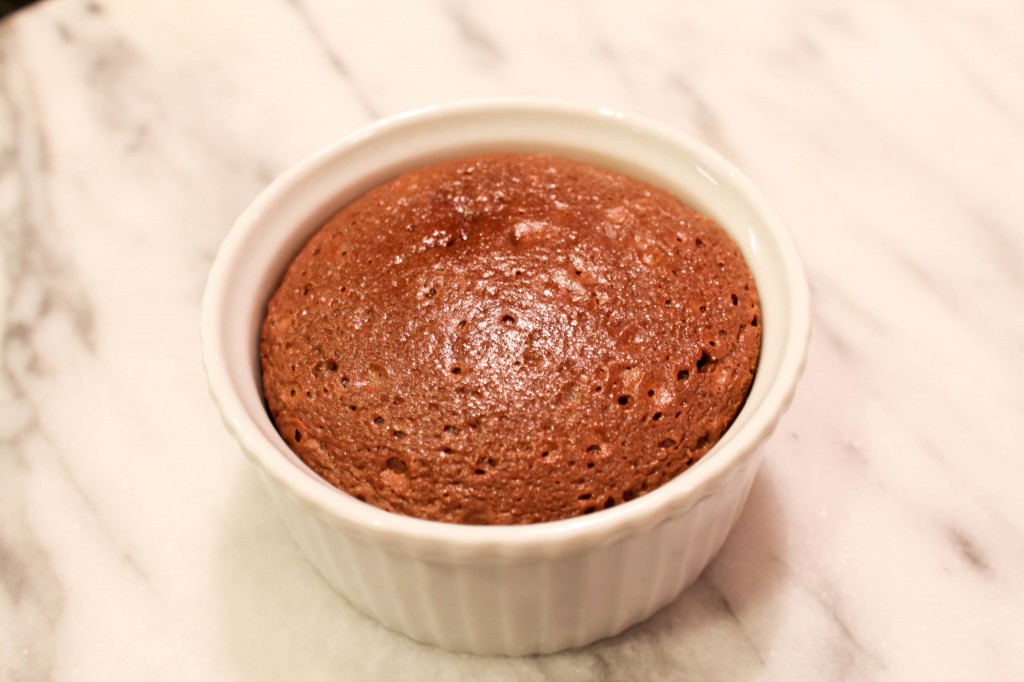 Let it cool for 10 minutes then run a knife around the edges. The cake should pop out easily.
Oozing chocolate! Yumm
Molten lava cake is best when served with vanilla ice cream.
Makes 5 Molten Lava Cakes
4 Tbsp butter (1/2 stick), room temperature
1/3 c granulated sugar
3 eggs
1/3 c flour
1/4 tsp salt
1+1/3 c semi-sweet chocolate chips, melted
1 Tbsp confectioner's sugar
10 scoops of vanilla ice cream (optional)
1. Preheat the oven to 400F.
2. Grease the bottom and sides of the ramekins with butter.
3. Mix butter and sugar until creamy.
4. Add eggs into the mixture one at a time, beating lightly after each egg.
5. Add flour and salt and mix until combined.
6. Place the chocolate chips in a bowl and microwave for 30 seconds. Stir well then microwave for another 30 seconds.
7. Add melted chocolate chips into the mixture and stir until well combined.
8. Fill each ramekin to 3/4 full. Depending on the size of your ramekins you should have enough batter for about 5 cakes. Place the ramekins in a baking pan.
9. Bake for 13 minutes or until the cake is not jiggly when you slightly shake the baking pan.
10. Let the ramekins cool for 10 minutes. Run a knife around the edges of the ramekin and the cake should pop out easily.
11. Dust the cake with confectioner's sugar and serve with two scoops of vanilla ice cream.
Source: Table For Two