I hosted a Yankee Swap Christmas party with some friends and decided to bake some holiday treats for my guests. I made chocolate dipped peppermint merengues, cut-out sugar cookies, and vanilla cupcakes. The least festive dessert ended up being the most popular! I baked 64 mini cupcake and maybe only 5 cupcakes were left at the end of the night. These have always been a favorite amongst the crowd. I used some holiday sprinkles and cupcake liners to be more festive. What are you baking for Christmas this year?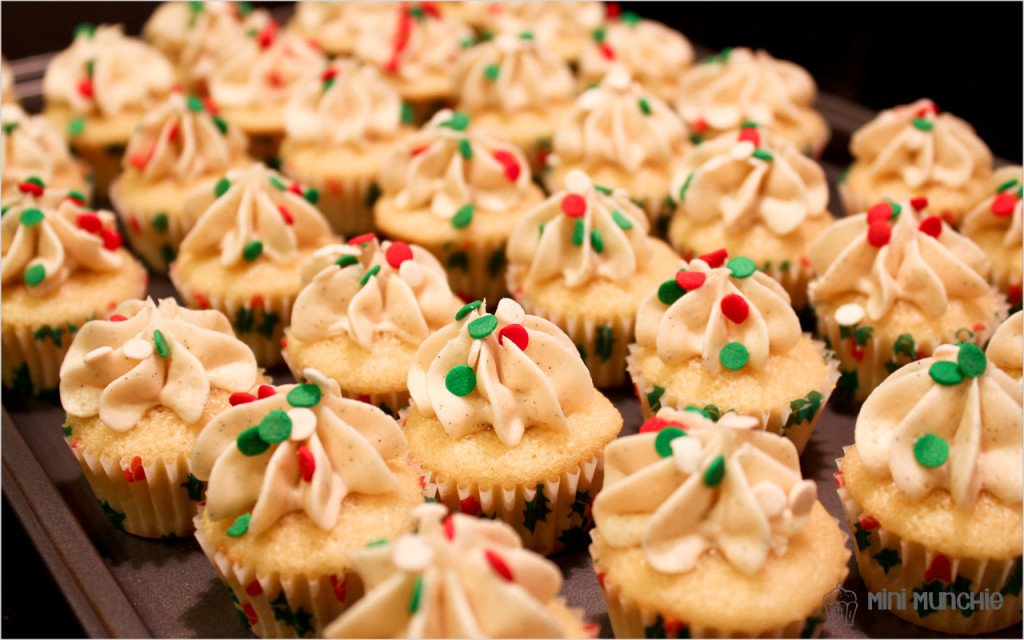 This cupcake is my favorite because it is super moist and fluffy. The key is to measure the ingredients to the exact dot and to remove the cupcakes from the oven as soon as it is done. Over baking the cupcakes by even 1 minute will cause them to lose it's moisture. I recommend using a kitchen scale to measure the sugar, cake flour, and sour cream. It is easy to be slightly off on those ingredients so I included the exact weight in the recipe below. It is also important to use full fat sour cream and whole milk. We're baking cupcakes and not healthy breakfast muffins! Let's save those calories later, it's the holidays anyway!
The trick to not over baking your cupcakes is to test out your oven by baking 1 cupcake first. Stick a toothpick in the middle of the cupcake after the first 12 minutes of baking. If the toothpick does not come out clean, bake for an additional minute and test again. Repeat until the toothpick comes out clean. I bake the regular size cupcakes for 15 minutes and mini cupcakes for 11 minutes but temperatures can vary by oven. Experimenting with 1 cupcake will help you find out the exact baking time so you can be assured that the main batch will be moist and fluffy. 🙂 Based on how much your first cupcake rises, you can adjust the amount of batter in your cupcake liners for the rest.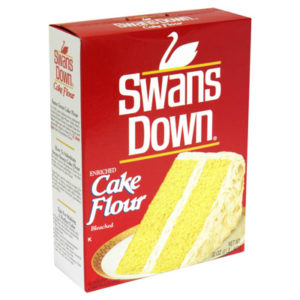 I also wanted to point out the two ingredients that I used in this recipe that may not be available at all supermarkets. The cake flour is key to this recipe so substituting with all-purpose flour will not work. I found this cake flour at Stop & Shop nearby and the vanilla bean paste at Sur La Table. You can also find the vanilla bean paste on Amazon.
There are a few steps in this recipe that may make you wonder if you are doing it correctly. When you mix the butter into the dry ingredients it will result in a crumbly texture because there is very low butter to flour ratio. Don't worry, that is exactly how it should be! After your dry and wet ingredients are combined they should be very moist. Slowly mix the milk a little at a time into the mixture, adding all of it even though your batter will be runny. The completed batter should be in a liquid form and you should be able to pour it out of the mixer bowl easily. Finally, don't overfill your cupcake liners as these cupcakes do rise quite a bit. Fill each cupcake liner just a tad over 1/2 full.
To make a smooth and creamy frosting, use unsalted butter in room temperature. Sifting the powdered sugar will also help smoothen the texture so you don't end up with little chunks of sugar. I also recommend adding the vanilla bean paste to taste so start by adding 3 teaspoons. Finally, add 1 tablespoon of milk to your frosting first and if it smooth and creamy you do not need to add more milk. This buttercream frosting tastes like vanilla bean ice cream! Yum.
Have a safe and happy holiday everyone! 🙂
Makes 16 cupcakes
Cupcake
1 c sugar (225g)
1 + 3/4c cake flour, not self rising (175g)
1 + 1/2 tsp baking powder
1/2 tsp baking soda
1/2 tsp salt
1/4 c unsalted butter, room temperature (4 Tbsp)
2 large eggs, room temperature
1/3 c sour cream (75g)
1/4 c canola oil
1 Tbsp vanilla extract
2/3 c whole milk
Frosting
3 c powdered sugar, sifted
1 c unsalted butter, room temperature
5 tsp vanilla bean paste
1 Tbsp whole milk
Cupcake
1. Preheat the oven to 350F.
2. In a medium bowl or the stand mixer bowl, mix together the dry ingredients – sugar, cake flour, baking powder, baking soda, and salt.
3. In a small bowl, combine eggs, sour cream, canola oil, and vanilla extract. Set aside.
4. Mix the dry ingredients with butter on medium-low speed.
5. Add the wet ingredients and mix until well combined.
6. Lower the speed of the stand mixer to low. Slowly add the milk a little bit at a time until the mixture is smooth. You should end up with a runny liquid batter.
7. Fill the cupcake liners slightly over 1/2 full.
8. Bake at 350F for 13-15 minutes. Stick a toothpick in the middle of a cupcake to test if it is done.
9. Immediately transfer the cupcakes to a cooling wire rack.
Frosting
10. Sift the powdered sugar.
11. In a stand mixer, mix the sifted powdered sugar and butter until smooth and creamy.
12. Add the vanilla bean paste and mix until combined.
13. Add 1 tablespoon of milk to the mixture and mix until smooth. Add an additional tablespoon of milk if the frosting is too stiff.
14. Wait until the cupcakes are completely cooled to frost them.
Source: Cupcake Project